INFORMATION / お知らせ
2014-12-21 18:36:00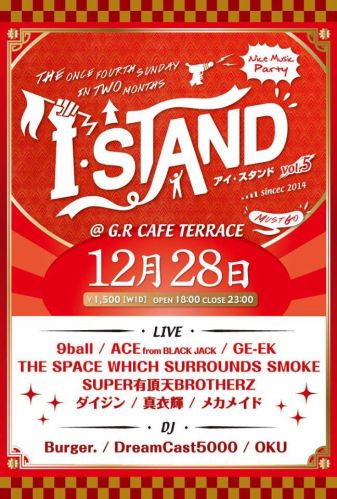 2014-12-14 19:49:00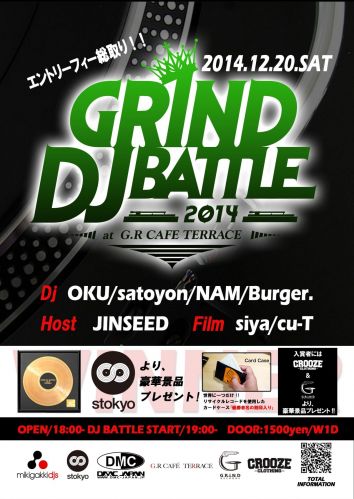 どんなスタイルでも参加可能。
スクラッチのみの参加もOK。
自慢のルーティーンを何度使用してもOK。
-Players can participate in any style.
Scratch only is OK.
It's OK to use same routines in number of times-


この機会に参加してみませんか?
もちろん遊びに来るのもOK!
So why not enter? It's also welcome for you to just come and play!!-

【概要】
ルール:トーナメント方式
予選60秒×2本
 ※出場者人数により本数は変わります。
準決勝・決勝は90秒×2本
 ※3位決定戦も開催します。
ジャッジ:エントリーDJ数名による判定
-[DJ BATTLE Summary]
Rules
60 seconds *2 for the elimination round
(The number varies depending on the contestant numbers.)
90 seconds *2 for the semi-finals and final
also a third-place match would be held.

Judge
Players would be judged by several performers.

-優勝者-
エントリーフィー総取り
stokyo様より豪華景品
カードケース [優勝者名刻印入]

上位3位までの入賞者には、CROOZE CLOTHING & GRIND RECORD より商品プレゼント!
Winner
The Winner takes the total entry FEE, and an original card case (with the winner's name engraved on).

The top three players get gift items from "CROOZE CLOTHING" & "GRIND RECORD"!

【応募要項】
-メールでのエントリー方法-

メールでの応募の際は件名に"GRIND DJ BATTLE 応募"と記入して頂き
"氏名、DJ NAME 、年齢、性別、住所、電話番号"を本文に記入して頂き、
下記メールアドレスにご送信下さい。メール確認後こちらからエントリー
確定のご連絡を差し上げます。
エントリー確定の連絡が無い場合は06-6212-6707 [担当梶浦]までご連絡ください。

mail : tmc @ grindrecord.com [@の間を詰めてご送信下さい]

※メール応募受付終了は、12月17日22:00迄となります。

尚、エントリーフィー1,000-は当日御持参下さい。

-[How to Entry]
Entry by e-mail
1. The subject of the mail should be "GRIND DJ BATTLE ENTRY"
2. Fill the mail with your..."name, DJ NAME, age, sex, address, phone number"
3. Please send the mail to the following e-mail address.

tmc@grindrecord.com

After your Entry mail has been received, there would be a mail after confirmation.
Please contact me if there is no response after entry. (Kajiura : 06-6212-6707).

※ mail entry should be done until 22:00 of 17th december.

1,000Yen entry fee would be needed.-

【リハーサル】
バトル出場者は17:00までに集合して下さい。
リハーサルの時間は17:00-18:00のエントリー順になります。
前日までのエントリー者には前もってリハーサル時間をお知らせいたします。
但し、リハーサル時間を過ぎますと、リハーサル無しとなります。
当日エントリーの締め切りは18:00迄となります。

尚、当日エントリーされる方はリハーサルの時間がない
場合がございますので、予めご了承ください。

ご不明な点などございましたら、お気軽にお問い合わせください。
-[Rehearsal]
Players should be appointed at 17:00.
Time of rehearsal will be in the order of entry between 17:00-18:00.
I will inform beforehand for players who entered up to the day before.

However, when it passes over rehearsal time, there will be no rehearsal.
The deadline for entry on the day will be until 18:00.

Please note in addition, there might be no rehearsal time for the players who Entered on the day.

If there are any questions, please don't hesitate to contact us.-

【使用機材】
ターンテーブルTechnics SL-1200
ミキサーTechnics SH-EX1200

持ち込み可能ミキサー
VESTAX PMC-05 PRO4
Native Instruments Traktor Kontrol Z2
Rane 62

Scrachlive SL3 
針、ヘッドフォン、スリップマットはご持参ください。
-[Equipments]
Turntable Technics SL-1200
Mixer Technics SH-EX1200

New Rule : IF You have Native Instruments So if you want to use the VESTAX PMC-05 PRO4 / Traktor Kontrol Z2 / Rane 62, please bring to the venue.

Scratch live SL3
Please bring your own needles , headphones , slip mat .-

お問い合わせはこちら
[G.R CAFE Terrace]
〒542-0086
大阪府大阪市中央区西心斎橋2-13-13 ショウザンビル B1-A

06-6212-6707
http://www.grindrecord.com/

MAP[GRINDRECORDS WEB]
[http://grindrecord.com/?mode=f1]

-[Contact us]
GR CAFE Terrace
Postal Code 542-0086
B1-A, 2-13-13 Syouzan Bld., Nishishinsaibashi, Chuo-ku Osaka-shi, Osaka, Japan

Tell: 06-6212-6707
WEB: http://www.grindrecord.com/

MAP [GRINDRECORDS WEB]
[http://grindrecord.com/?mode=f1]-